A few months ago my mom made some adorable quilted mini pincushions. She mailed one to me in a package for my son's birthday. It came un-stuffed, since she knew I could fill and close it myself. This little "quilt" is a 9-patch block with a border. You can find directions on how to make it here by Crazy Mom Quilts. The red and white colors in the one my mom sent reminded me of Christmas so I decided to try it out as an ornament instead.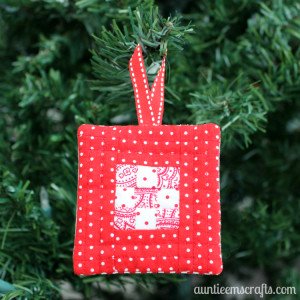 I would normally put walnut shells inside the pincushion, but instead I was able to use the opening as a place to put a ribbon hanger. I cut a piece of grosgrain ribbon to 6". I joined the ends of the ribbon with a sliver of Peel N' Stick double sided tape. If you made a key fob or lanyard from my tutorial, you should already have some on hand. I put another small piece on the front and back of the ribbon. I placed the ribbon inside the pincushion so that the tape was at least ¼" down. I did this so when I hand-sewed it shut, my needle would not get sticky.
After deciding to make a few more in my tree colors, I changed up my procedures a little. I hand-sewed the opening shut first then stitched in the ditch around the 9 patch. I used my Crop-A-Dile II to punch a hole in the top and add an eyelet. I cut an 8″ piece of coordinating baker's twine and knotted it through the eyelet to become the hanger.
Whichever way you decide to construct it, you'll end up with a cute, handmade quilt block ornament. 🙂