This post contains affiliate links, which means I am compensated if you make a purchase using this link. Thank you for supporting my blog! 
Sure bibs are great for teething babies but even better is a bib plus binky strap in one! The binky connects directly to the bottom of the bib so that you don't have to worry about it hitting the floor when they spit it out. Genius, right! I have been asked half a dozen times on Facebook if I make these, so I guess the answer is I do now. And you can too, in about 30 minutes with this binky bib pattern and tutorial.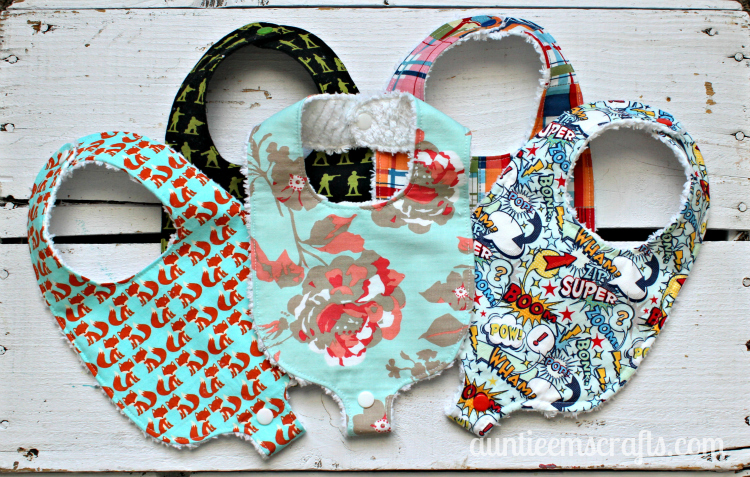 (Of course, if you want to make a bib and binky strap separately, I have made tutorials for those too.)
This pattern is not very different from the newborn bib in my Basic Bib Tutorial. The difference is you will add a flap with snaps at the bottom of the bib. Download the new template here Binky Bib Pattern. Once the pieces are taped together and cut out, trace it onto some chipboard for a sturdier pattern. I used a gift box from Christmas, but a cereal box or stencil plastic would work great also.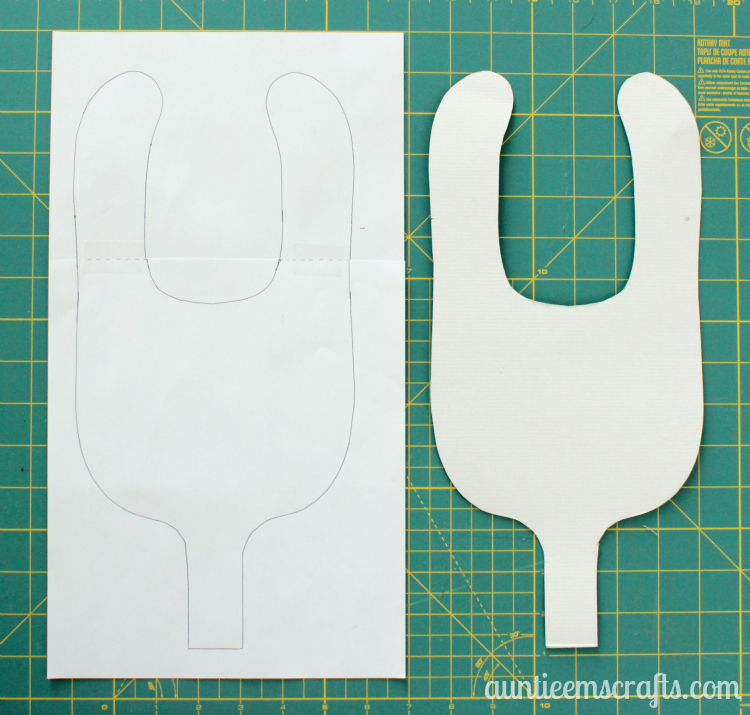 Follow steps 1-15 from the Basic Bib Tutorial. There are many photos and clear instructions at that link. Of course, if you have any questions you can leave a comment below.
If you use a thick material for the backing, such as minky or chenille, I suggest you use a walking foot to help guide the fabrics evenly. Both fabrics should be cut 14.5″ tall x 7.5″ wide.
Here is how the bib will look after step 9.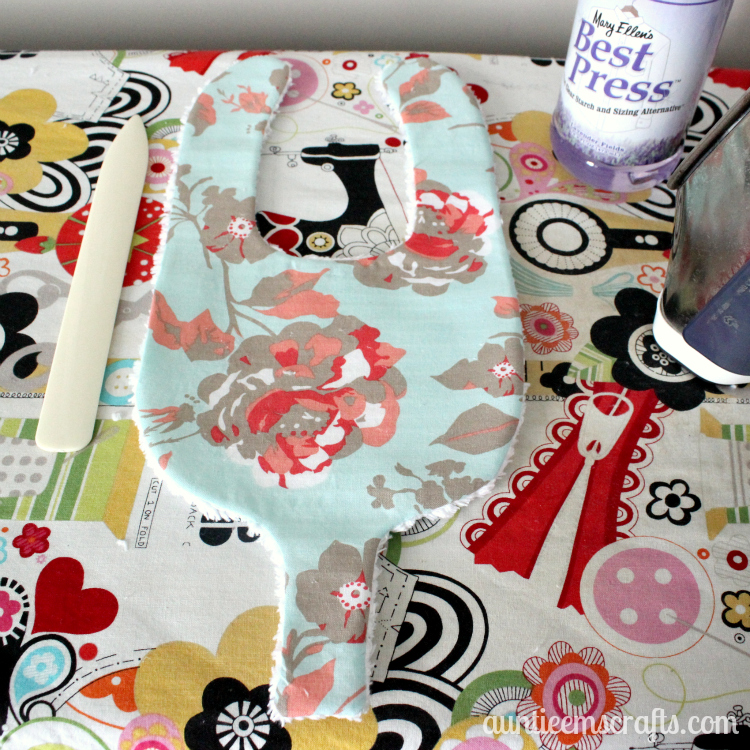 At step 10, you will top stitch near the edge. This will close the gap you left earlier without the need for hand stitching. I like to use the edge of my walking foot along the edge of the bib and move my needle over as desired.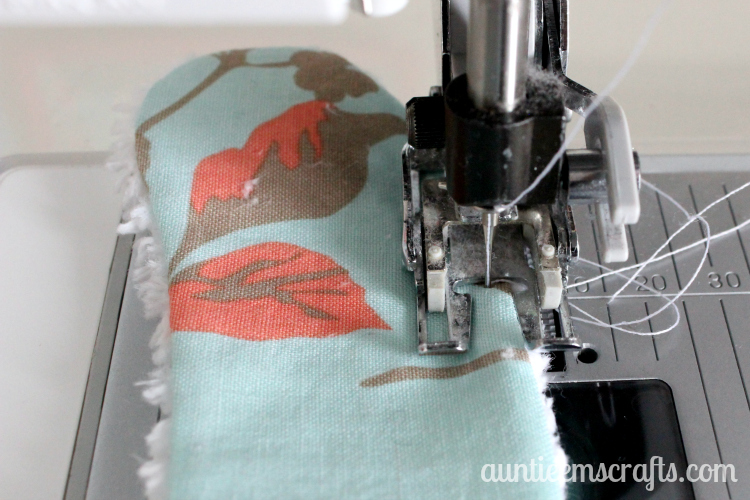 During step 12, you use the shank tool from the Babyville Boutique Snap Pliers
 to poke holes for the snaps. This time you will make a second pair of holes on the flap.  Add a male and female snap set here. The flap should fold underneath the bib when fastened.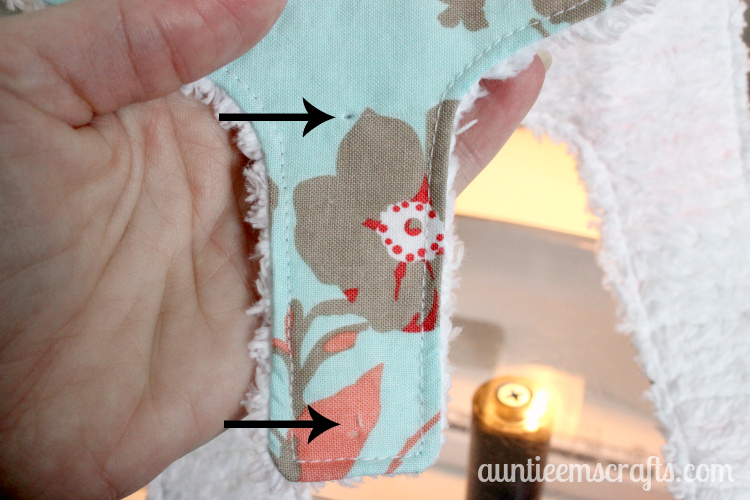 Here is my little guy Lincoln at 10 weeks with his binky bib.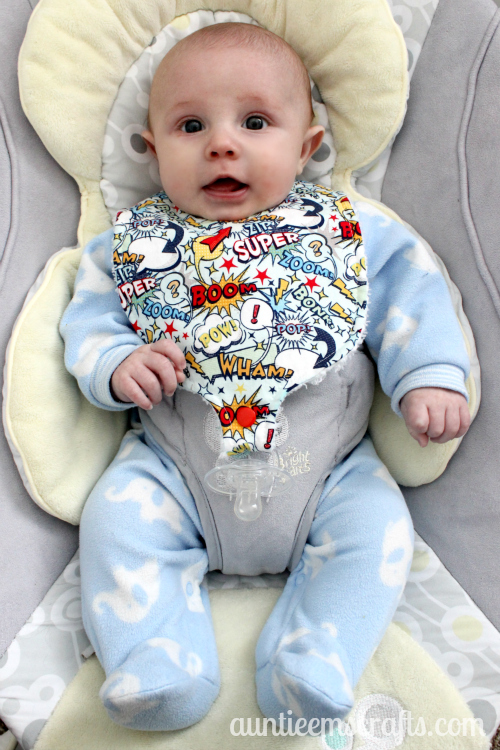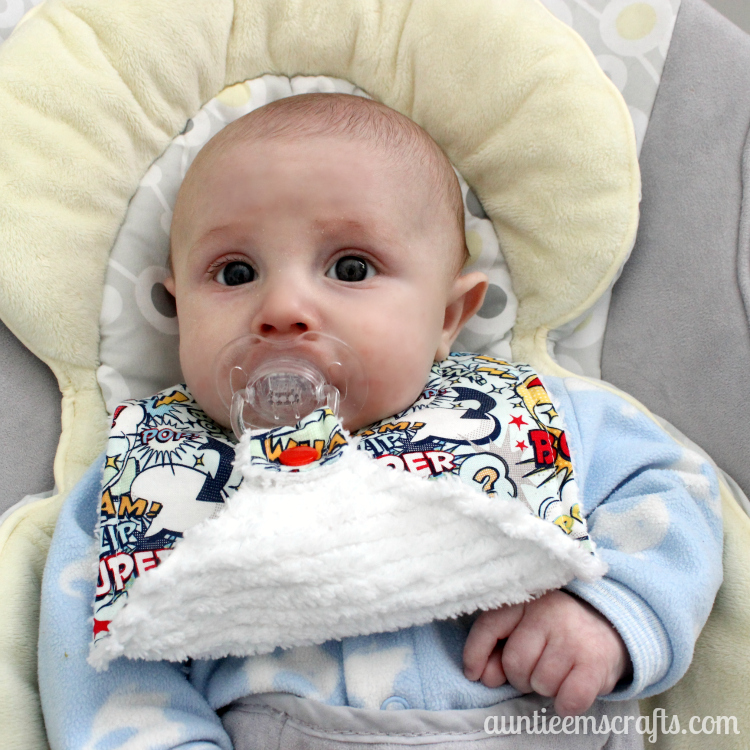 Available binky bibs will be listed soon in my Etsy store or by clicking on the Shop tab on this site.