On my last day in Illinois this summer, my mom and I visited a quilt shop that had the cutest HST quilt hanging on the wall. It was a half square triangle quilt made with a mixture of Riley Blake Fancy and Fabulous and Moda Sugar Cookie. I knew I had most of the same fabrics at home so I wanted to recreate it. I bought the rest of the fabrics that day and started cutting them as soon as I got back to my mom's. Sometimes I can't wait to get started on my next unfinished object, LOL!
Much to my surprise I pieced the top really quickly (in just one day!). I started with an 9″ block of the sugar cookie and an 9″ block of the F&F. I placed them right sides together, drew a line from corner to corner, then sewed 1/4″ from each line. I cut the triangles on the line, then ironed them open. Each HST was trimmed to 7.5″. I think I cut one of my strips the wrong size so your HSTs can probably be cut down to 8″ or a little bigger.
My finished quilt measures 44″ x 58″. It is the perfect size for a crib quilt, for a toddler or small child, as a wheelchair quilt (though slightly big), or even as an adult lap quilt. My coral and mustard fabrics were from Moda, I believe.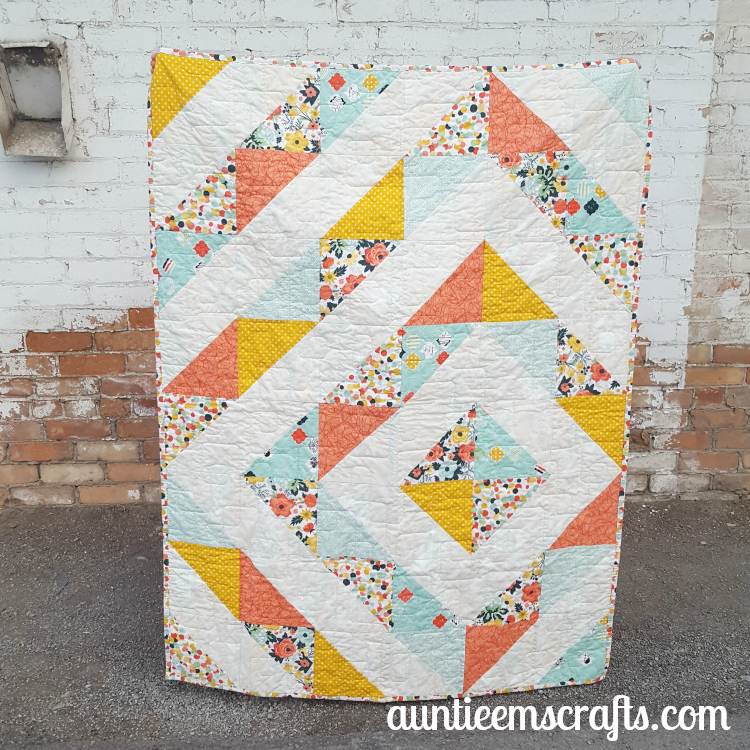 Materials needed to recreate this quilt:
6 fat quarters or quarter yards
1 3/4 yards of a solid or tone on tone (1.5 yards exactly plus some extra in case you mess up and for squaring up)
3 yards for backing (slightly wider if you need to match a pattern on the back like I did)
1/2 yard (15″) for binding
It is a 6×8 block setting, so you'll need four blocks of each color, then 24 blocks of your solid/ToT.
Mine was professionally quilted by Quilting Together With Mindy. I chose Cool Beans for the quilting design. I don't think it is the same design the quilt store used, but it was the closest I could find. I love it!
This is a HST quilt pattern I will  make again. I hope you will give it a try too! Half square triangles are so versatile and can be arranged a variety of ways to create a different look. If you liked this quilt, you may also like this arrangement as well: Rainbow HST Quilt.